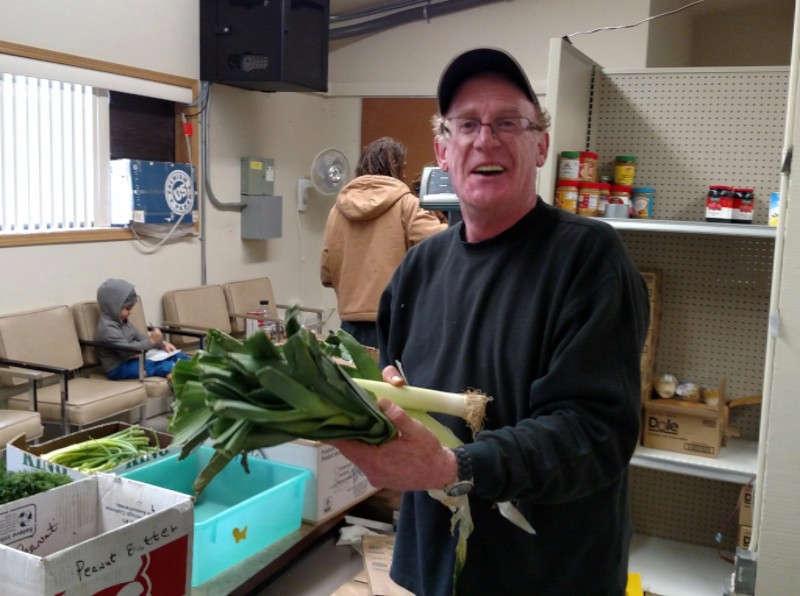 "Mind if I take a leek?"
Our volunteer staff has a strong commitment to serving the many constituents of our organization. But first and foremost, they focus their energies on those who take advantage of our programs and services.
Denise Spayd RN: Executive Director
Neva Barnett: Pantry Coordinator
Adele Delgado: Distribution
Dodi Dickson: Client Processing, Spreadsheets & In-Kind Donations Management
Scotty Gray: EFAP program assistant (USDA Commodities)
Linda James: Distribution
Mike Krause: Assistant Pantry Coordinator & Maintenance
Michael Mozina: Information Technology
Bill Skadsen: Produce Transport
Anna Volf: Financials
Our volunteer board of directors represents a cross-section of our community and has a passion for our organization and those we serve. The members work hard to ensure long-term sustainability of the organization and oversee that the funds raised directly affect those in need.
David Gilman - Chairman
Todd Weaver DDS - Vice-chair
Suzanne Otvos - Treasurer & Client Processing
Dolores Casillas - retired LVN & foster parent
Aaron Redelsperger - Pastor, Weed Church of Christ & nursing student
Amy Redelsperger - home school parent & client representative