Thank you for supporting the Shastina Community Market!  We look forward to seeing you there.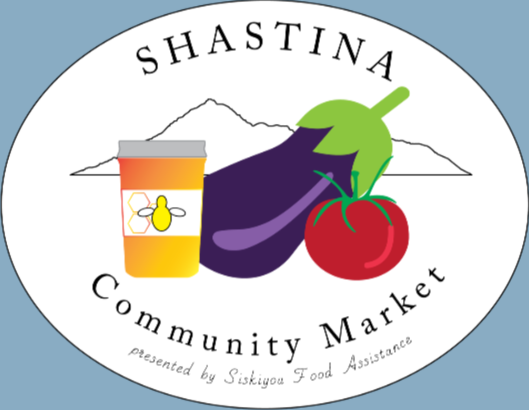 Here is a neighborhood opportunity to purchase clean, local food directly from the producer each week. This is a membership market only for the time being. The market runs for a one-hour period on Tuesdays from 5-6pm and is held outside the Lake Shastina Community Center, 15244 Driftwood Lane in Lake Shastina. 
To become a member, simply pay the one-time fee of $25 (see below). You will then receive weekly emails from the vendors listing what they have available each week. Orders must be placed directly with each vendor, then picked up/paid via drive-through distribution. Vendors will be sanitizing their hands between each transaction, and keeping distance. A safe way to shop!
Some of our regular vendors include:
Skyelark Ranch, Edgewood CA. Organic, pastured pork, lamb, chicken, eggs, wool yarn and sheepskin rugs.  
Siskiyou Food Assistance, Weed CA. Selling organic produce during cool season when local farms are unable to grow. Proceeds benefit our emergency food pantry that serves South Siskiyou County. 
Greenhouse Homestead and Farm, Gazelle CA. Delicious pies, breads, cookies and preserves. Katelyn's selection is updated frequently.
Novy Ranches, Grenada CA. Grass fed & finished Angus beef. 
Pyroclastic Chocolate, Lake Shastina CA. Volcano-inspired truffles & treats that are truly amazing. Samples sometimes available. 
Kindred Gardens, Weed CA. Plants, bulbs, trees selected for Siskiyou growing.
Black Oak Vineyard & Farm, Grenada CA. Pure juices made from wine grapes. Samples available.
Cyndarella's Kitchen by Cyndi Colvin, Lake Shastina, CA. Prepared dinners, which frequently include keto options and dessert.
Lunch Box Dinners by Liza Wood, Dunsmuir CA. Each week, Liza offers a different menu packaged for easy serving at home. All meals purchased from Liza feed four people and cost $45 each. Those who order by Monday morning can pick up their dinners at our Market.
For more information on Shastina Community Market:
info@siskiyoufoodassistance.org
530-408-6115
Jennifer Dickinson, Lake Shastina
It's every Tuesday, they have brought me wonderful meals, seeds, meat, plants, fruit, veggies, bread, jams and candy too. It is PRE-Order only. With an e-mail posted for every vendor to find out weekly deals. Of course the ONE TIME FEE is worth every penny. Did I mention one lady makes incredible art work puzzles, I bought one that was an old antique valentines day card, sent it to my mom. She loved it.
Alan Pursell, Lake Shastina
Shastina Community Market
I was down at the Market yesterday speaking to some of these fabulous people providing a real service for our community. The pre-order and drive thru pickup is just what we need these daze!