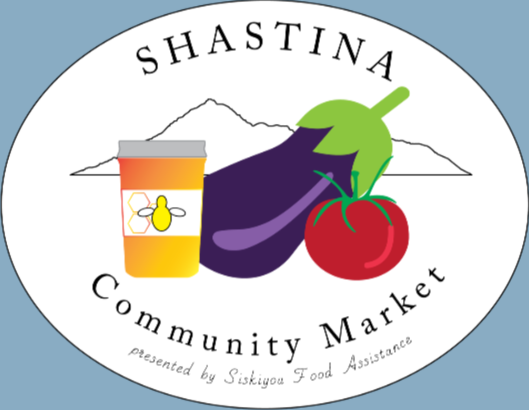 Here is a neighborhood opportunity to purchase clean, local food directly from the producer each week throughout the year. For now, the market runs for a one-hour period on Tuesdays from 5-6pm. During the months of April through September the market will be held at Hoy Park in Lake Shastina. From October through March, it is held in the Lake Shastina Community Center, 15244 Driftwood Lane in Lake Shastina. There is also an ever-rotating selection of local artists with beautifully-crafted wares to sell.
Some of our regular vendors include:
Skyelark Ranch, Edgewood CA. Organic, pastured pork, lamb, chicken, eggs, wool yarn and sheepskin rugs.  
Siskiyou Food Assistance, Weed CA. Selling organic produce during cool season when local farms are unable to grow. Proceeds benefit our emergency food pantry that serves South Siskiyou County. Those wishing to become members of the Market will receive a 15% discount on anything sold by SFA. See form below.
Greenhouse Homestead and Farm, Gazelle CA. Delicious pies, breads, cookies and preserves. Katelyn's selection is updated frequently.
Novy Ranches, Grenada CA. Grass fed & finished Angus beef. 
Pyroclastic Chocolate, Lake Shastina CA. Volcano-inspired truffles & treats that are truly amazing. Samples sometimes available. 
Kindred Gardens, Weed CA. Plants, bulbs, trees selected for Siskiyou growing.
Black Oak Vineyard & Farm, Grenada CA. Pure juices made from wine grapes. Samples available.
Matt's Micro Greens, Lake Shastina CA.  A variety of micro greens grown with tender loving care.
Co-Creation Arts, Lake Shastina, CA.  Fine leather, knitwear, jewelry and photography. 
Lunch Box Dinners by Liza Wood, Dunsmuir CA. Each week, Liza offers a different menu packaged for easy serving at home. Those who order by Sunday can pick up their dinners at our Market.
For more information on Shastina Community Market:
info@siskiyoufoodassistance.org
530-408-6115
Thank you for supporting the Shastina Community Market!  We look forward to seeing you there.