Run for Food 5k run/walk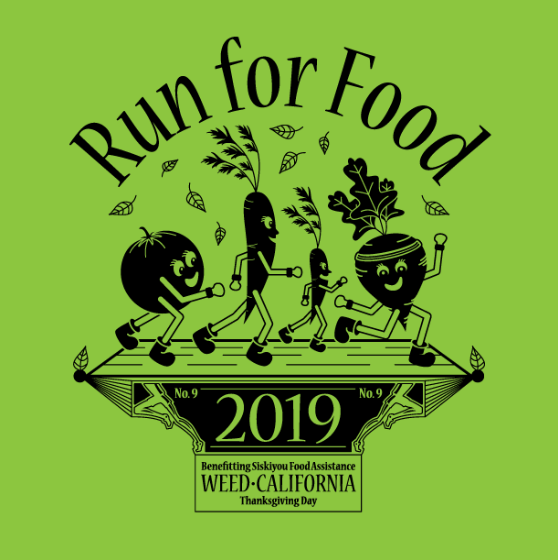 Weed Run for Food 5k Run/Walk 2019 is officially CANCELLED. 
There is accumulated snow on the ground at College of the Siskiyous Weed campus that will not melt by the event start time. The track cannot be cleared. COS Weed campus is closed and therefore no maintenance is available. With single-digit temperatures predicted for tonight, the snow will be very slippery. We want to ensure the safety of all our participants and volunteers, so this decision had to be made.
Also cancelled is today's packet pickup event at Sportsmen's Den in Mt. Shasta from 1-3pm.
They would like to remind everyone that with all the snow on the ground everywhere, this would be a great time to rent snowshoes! They've got lots and are open until 6pm today. 
THANK YOU to everyone who registered for this event! We like your idea of fun on Thanksgiving Day and appreciate you supporting our work at Siskiyou Food Assistance. The registration fees are, unfortunately, non-refundable. The t-shirts that you already purchased will be mailed to you as soon as possible, unless you would like to pick them up.
THANK YOU to all of our generous sponsors! We appreciate your efforts to ensure a great event for us all. Everyone please support these amazing businesses!
THANK YOU to all the wonderful people that were willing to come out on a freezing cold day to help you check in, register, purchase shirts, warm up before the Run, dance to fun music, enjoy a nicely marked course, assure accurate finish times, enjoy amazing refreshments, receive correct medals, have nice photos taken and receive nice raffle prizes. We are proud of this amazing team!
Have a grateful, safe Thanksgiving Day!! 
NEED MORE INFORMATION?
Phone: (530) 408-6115
E-Mail: runforfood.weed@gmail.com
Find us on Facebook:  Weed Run for Food

BENEFICIARY
All proceeds benefit Siskiyou Food Assistance (SFA), which supplies nutritionally balanced emergency food boxes to hundreds of low-income families throughout South Siskiyou County.