Run for Food 5k run/walk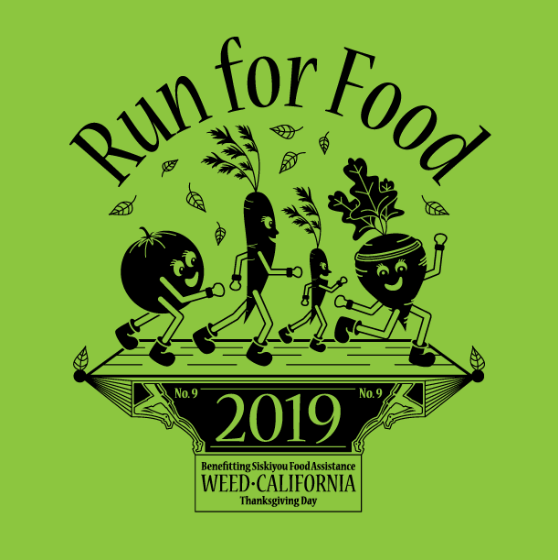 Thanksgiving Day 
Thursday, November 28, 2019
8:45am

ENTRY FEES & REGISTRATION
Pre-registered by November 1: Adults   $15
Children Ages 6-11:  FREE (encouraged to register*)
Children Ages 5 and under:  FREE
After November 1, including Race Day: All Adults, no exceptions   $20
Children Ages 6-11:  FREE (encouraged to register*)
Children Ages 5 and under:  FREE
REGISTRATION OPTIONS:
1.  Register online by clicking HERE.
2.  Pickup/drop off registration forms:
     Weed:  Dawson's Wreath Barn, 142 S. Weed Blvd.
     Mt. Shasta:  Sportsmen's Den, 100 Chestnut St.
3.  Mail to PO Box 96, Weed, CA 96094
4.  At Participant Check-in on November 26th, SFA Pantry - 780 S. Davis Avenue, Weed  1:00 p.m. - 3:00 p.m.
5.  At Participant Check-in on November 27th, Sportsmen's Den - 100 Chestnut Street, Mt. Shasta  1:00 p.m. - 3:00 p.m.
6.  Day of Race Registration: Between 7:45 and 8:30 a.m. You must be in line by 8:30 a.m. to register for run/walk.
*Children Ages 6-11 are encouraged to register at no cost to be eligible for awards.  
Children 14 and under must be accompanied by a participating adult.    
Entry fees are non-refundable and non-transferable.

TIMING
Run for Food utilizes manual race timing.  Runners and walkers will wear bib numbers with pull tabs for timing and placement. Timing will be available for those registered through race day.  The top 3 finishers from each age/gender category will have times posted.  Finish line closes at 10:00 a.m. Official times cannot be guaranteed for those who finish later.

PARKING
There is plenty of free parking at the College of the Siskiyous Weed Campus.  

COURSE
The race starts and ends at the College of the Siskiyous football field/track in Weed.  From the track, runners and walkers go three quarters of a mile around the COS campus and enter the scenic and wooded two mile "Bear Trail."  The 5K course concludes with a victory lap around the track.
A small section of the Bear Trail is single track and large wheel running strollers are recommended for parents with small children.  Wheelchairs are not recommended.  NO PETS ARE ALLOWED ON THE COS CAMPUS.
In the event of accumulated snow on the ground, the course may be reduced to the track only.  Please watch for e-mail and Facebook updates.

T-SHIRTS & AWARDS
All t-shirts are offered as an optional purchase. Adult long-sleeved 50/50 cotton t-shirts and technical shirts (both long and short sleeve) will be available. Participants who wish to purchase one, and do so prior to November 1, are guaranteed a t-shirt. Some adult t-shirts will be available for purchase on Race Day, and will be available on a first-come, first-served basis.
 
Awards ceremony will be held at the COS football stadium after the run/walk is concluded. Awards will be given out to the top overall female & male runners, as well as the top three finishers in each age category.  Those pushing strollers will compete in their own division, regardless of age.

PARTICIPANT CHECK-IN
Save time, avoid race day crowds! Visit one of the following participant check-in days/locations:

Tuesday, November 26 - SFA Pantry 780 S. Davis Avenue, Weed 1:00 p.m. - 3:00 p.m.

Wednesday, November 27 - Sportsmen's Den 100 Chestnut Street, Mt. Shasta 1:00 p.m. - 3:00 p.m.

Day of Race participant check-in is available between 7:45 a.m. and 8:30 a.m. at the COS football stadium.

NEED MORE INFORMATION?
Phone: (530) 408-6115
E-Mail: runforfood.weed@gmail.com
Find us on Facebook:  Weed Run for Food

BENEFICIARY
All proceeds benefit Siskiyou Food Assistance (SFA), which supplies nutritionally balanced emergency food boxes to hundreds of low-income families throughout South Siskiyou County.