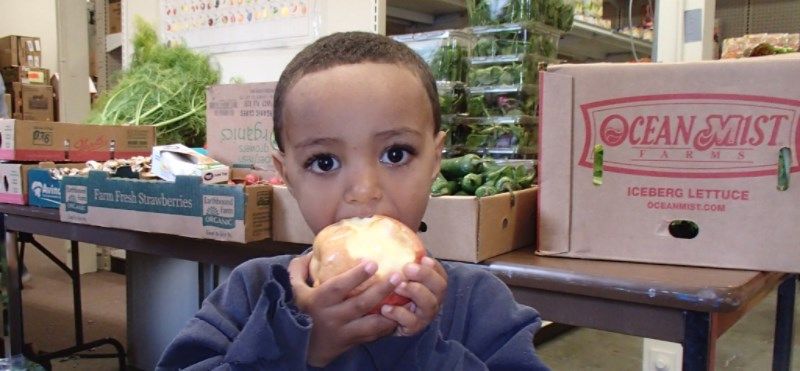 For each of our programs, both volunteer assistance and operating support are gladly welcomed. Please see our "What You Can Do" page. 
EMERGENCY FOOD BOXES
Our flagship service that began in 1986 and continues in similar style today. Clients who are registered with our agency may receive up to ten emergency boxes per calendar year, each a three-day supply of nutritionally balanced fresh foods and staples. Distribution address is 780 So. Davis Ave., Weed CA. Hours are each Wednesday, from 11am to 3pm (with the exception of the Wednesday before Thanksgiving, see below). This program is available to low-income residents of South Siskiyou County, California.
Those wishing to access our services should bring several documents on their first visit:
1) Photo ID
2) Proof of residence in South Siskiyou County (Pacific Power bills, rent/lease agreements, etc.).
3) Proof of residence for everyone living in the home that you wish to pick up food for (mail addressed to them at your home, rent/lease agreements with their names listed, health insurance cards for minor children, etc.).
4) Proof of income for the entire household.
5) Not a document, but be willing to provide 2 hours of volunteer help with our agency. This is your "fee" to become a cooperative member of our pantry.
At this time, we are not able to provide transportation to or from our pantry. Please arrange transportation yourself. If walking, please bring a wheeled cart or suitcase to take your food home with you.
For questions, please call 530-408-6115 and leave a clear message. We will call you back as soon as possible.
This program made possible by the Modoc-Siskiyou Community Action Agency, Weed Union Elementary School District, Emergency Food and Shelter Program (FEMA), Siskiyou Community Food Bank, proceeds from Run for Food and caring donors.
PRODUCE ONLY PROGRAM
For those not needing an entire emergency box, our farmer's market style produce display is available to registered clients on a weekly basis. The selection changes each week. Clients are encouraged to bring their own reusable bag and make a $1 donation to cover program costs. Distribution is at same location and during same hours as above.
Made possible by General Produce (Mt. Shasta), Great Northern Services, Siskiyou Community Food Bank, California Office of Emergency Services and generous local gardeners.
EMERGENCY FOOD ASSISTANCE PROGRAM (USDA COMMODITIES) 
In 2016, Siskiyou Food Assistance became the EFAP distribution site for low income Weed area residents. The program provides for six boxes of food, each a pre-filled selection from the USDA, distributed every other month. EFAP distributions are conducted at the same time and place as our regular pantry hours, Wednesdays from 11am - 3pm. Click here to check the current income limits for participation and schedule in all Siskiyou County communities. 
Please call 530-408-6115 for any questions.
This program made possible by Great Northern Services and the US Department of Agriculture.
COMMODITY SUPPLEMENTAL FOOD PROGRAM (CSFP) aka "Senior Commodities"
In the Spring of 2017, a new government program became available to low income senior citizens that provides a monthly box of calcium-rich foods. SFA is the distribution point for the Weed area. Thirty participants are allowed into the program at a time. Applications are being accepted for the waiting list. Distributions for this program are on the third Wednesday every other month: October and November are remaining dates for 2019 during SFA's normal pantry hours of 11am to 3pm. 780 S. Davis Ave., Weed. Please call 530-408-6115 for any questions.
This program made possible by Great Northern Services and the US Department of Agriculture.
TAILGATE PRODUCE DISTRIBUTIONS @ Great Northern Services
This program runs from May through October, and allows for distribution of fresh fruits and vegetables that are too abundant for markets. Distributed through the State of California FoodLink network, low-income families are welcomed to bag up their selections from alongside the delivering 18-wheeler. Participants are encouraged to bring their own reusable bags. In South Siskiyou County, distributions are held on the third Tuesday of each program month from 11am - 12pm in the parking lot of the Great Northern Services warehouse 310 Boles St., Weed CA (corner E. Lake and Boles).
Volunteers are always appreciated for this distribution. Please arrive at 10:30am, or help clean up after 12:30pm.
This program made possible by Great Northern Services and FoodLink.
COMMUNITY DEHYDRATOR
Open to everyone in South Siskiyou County, this program allows for the safe storage of abundant produce to be used throughout the year. Our 20-rack commercial drying unit accommodates large amounts of vegetables and fruit.  It can be programmed at many different settings. Food must be prepared prior to arrival at our pantry.  Please call for information on dehydrator scheduling. (530) 408-6115.
Made possible by Shasta Valley Rotary Club (Yreka CA), Keith Simms & Dewey Digiorranni Electric, and Sue Tavalero.
THANKSGIVING BOXES
Our founders felt it was important for each family to enjoy a day of gratitude in the comfort of their own home. We are happy to carry on that tradition again this year with a distribution on the Monday prior to Thanksgiving Day. Each box contains ingredients for a traditional Thanksgiving dinner. 
Distribution is held at our pantry using a drive-up format, on a first-come, first-served basis. Low income residents who volunteer to help with this large project will be guaranteed a box. 780 S. Davis Ave., Weed.
Please call 530-408-6115 for questions.
Made possible by The Ford Family Foundation (Roseburg, OR) and Mercy Medical Center, (Mt.Shasta, CA).